---
AI technology can boost the ways businesses operate today. And after seeing people and companies explore the options of Generative AI for a while. Now businesses see the potential to improve efficiency, productivity, quality, innovation and more. Especially when it comes to
Automating tasks
Optimizing processes
Enhancing decision-making
To overcome the barriers of scale especially small businesses and entrepreneurs need experts they understand AI and data strategy to translate the company's business goals into valuable and data-driven actions.
Going Full AI In, Comes With Challenges
Besides the typical questions which come with a decision to use AI technology on business like
How can I identify the most valuable use cases?
How can I improve quality and availability of their data?
How can I enhance my learning and innovation capabilities?
Generative AI can also pose some challenges and risks for data strategy, such as ensuring the accuracy, reliability, and ethics of the generated data or content; protecting the intellectual property and privacy of the data sources; managing the complexity and uncertainty of the generative process; and aligning the generative outcomes with the business.
To manage these challenges, here our 3 touchpoints you should focus on to tackle the risks:
Let value be your guide: Focus on what value you want to create with generative AI for your business, rather than what you can do with it.
Focus on key points of the data life cycle: Ensure high quality of all data throughout its life cycle.
Develop multiple interventions: Use both human and automated methods to ensure the quality of all data.
How Can I Get Started With Generative AI?
That's where the Generative AI Canvas comes in handy. The Generative AI Canvas is a free framework developed by Datentreiber in collaboration with the Foundation Factory.
It helps you to explore the possibilities of generative AI by providing three starting points as a source of inspiration:
The input can be any type of data that you have or can access, such as text, images, audio, video, or code. The function can be any action that a generative AI can perform on the input data, such as extraction, filtering, anonymization, enhancement, detection, prediction, summarization, explanation, or transformation. The output can be any type of content that you or your customers want as a result of the generative AI process.
Meet Afke Schouten Our AI Strategy Consultant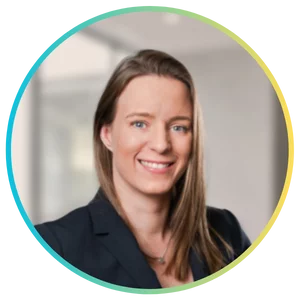 Afke Schouten, one of our talented experts at Datentreiber, defines her mission as
"I am on a mission to help companies generate true value with AI."
Her primary objective is to equip stakeholders at every level, from board members to data scientists, with the necessary AI, and AI Management knowledge and skills they need to generate value for their organization.
She is an experienced Data Scientist, Corporate Trainer and University Lecturer. She will guide you through the challenges and opportunities which come with AI and helping you translate your objectives into an AI Strategy for your company.
We Pave The Way To Your AI Strategy
If you are new to the Canvas Framework or need assistance transforming your company with AI technology? We are happy to guide you in planning and implementing a successful data-driven AI strategy for your company. We also provide the tools and methods to enable your employees to drive AI initiatives on their own.